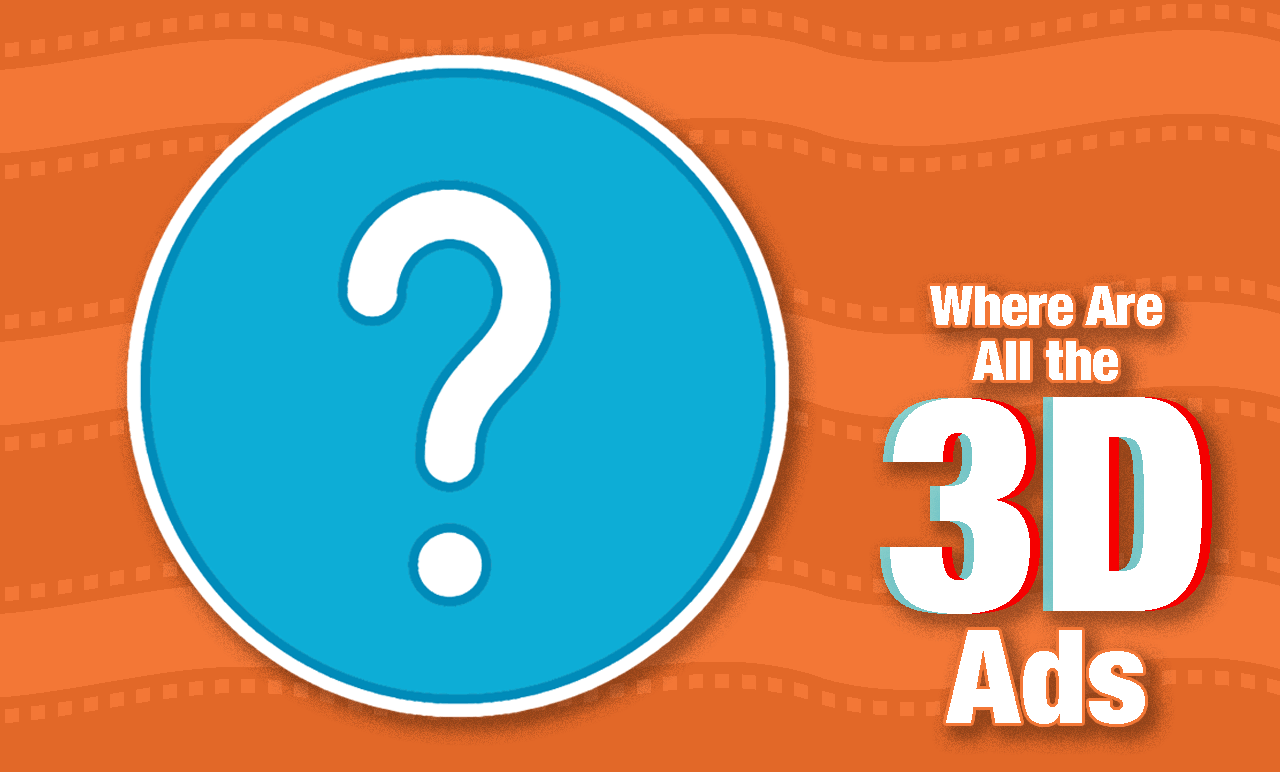 ---
In 2010, the future of 3D technology seemed incredibly bright. Hollywood had become infatuated with 3D technology and was using it to achieve record sales. Television manufacturers were working hard and getting ready to release their own 3D offerings. Major cable networks were even creating new three-dimensional content to be viewed by the masses.
The convergence of 3D and OOH once seemed inevitable, but this promising partnership has yet to make its way into the mainstream. This post will examine important factors pertaining to 3D technology, work to determine its potential impact on the outdoor industry, and look further into the future of the medium.
The Past, Present, and Future of 3D & OOH
3D's relationship with the outdoor industry is quite unique. For years, advertisers have paid to have billboards equipped with three-dimensional elements. Although these add-ons come with additional costs, marketers often find them to be worth the extra expenses because they attract additional attention and help to further brands messaging. So if there is a desire to extend billboards beyond their traditional canvas, why wouldn't digital 3D technology be the solution?
One primary reason for 3D's underwhelming OOH performance is that conventional 3D images, like the ones seen in theaters, look incredibly blurry when viewed by the naked human eye. Advertisers know that it is unrealistic to expect 100% of people to be wearing 3D glasses 100% of the time. So, in an effort to avoid placing blurry billboards they've largely moved their budgets away from three-dimensional technologies and continued to incur the additional installation costs associated with physical 3D elements.
Fortunately, 3D technology has improved vastly in recent years, bringing three-dimensional OOH ads closer to reality than ever before. Production studios, as well as major technology institutions, have worked tirelessly to free audiences everywhere from much-maligned 3D glasses. Glassless 3D technology has the potential to be used on virtually any type of digital screen to enhance its visual appeal. If this technology's popularity continues to grow, the likelihood of it being incorporated into OOH displays increases dramatically.
Additionally, a variety of companies, such as Kino-Mo, are beginning to develop highly successful 3D holographic displays. These displays are already being used in stores but their transition to billboards is moving considerably slower.  
These units are currently expensive and highly distracting. One worry considered by many is that placing 3D holograms on billboards alongside roads might be a safety hazard. The displays are incredibly effective at attracting attention and might cause drivers to take their focus off the road. Recently though, autonomous vehicles and their associated technologies have been greatly improved. When self-driving vehicles become more common, holographic technologies will follow soon after. Free of safety concerns, 3D holographic technology will gain popularity quickly and be used to effectively attract consumers' attention in virtually any location.
These new 3D technologies have the potential to seriously influence the future of the OOH industry. When glassless 3D or holographic technology becomes more prominent they will likely be featured on billboards, kiosks, and other digital screens nationwide. The 3D technologies of the future are here, and they are sure to impact the way OOH ads are going to be viewed. Radical change is coming, now it's only a matter of time.
---
3D ads may be the next big thing, but in the meantime go ahead and check out DOmedia, host to the largest database of OOH vendors in the US, to start planning your next outdoor ad campaign today!
Like This Article? Share It!