Back in 2011, Coca-Cola initiated its "Share a Coke" campaign in Australia. They started with just 150 names, and it has grown to be one of their most memorable and successful campaigns. Every summer since, Coca-cola has revamped the campaign by adding names, expanding to more of their products, going beyond names (such as nicknames and song titles), and making an online store where people could customize and order their own Coke bottle. This summer, Coke is bringing the campaign back with two new twists. Last names will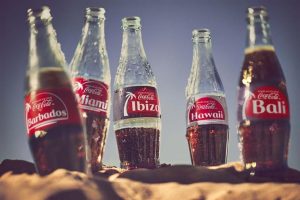 start being available as well as variations that are popular vacation spots.
The vacation destination part of the campaign is perfect as we enter summer. Not everyone can afford to pack up and head to Ibiza, but a Coke with the city's name on it is as close as some of us can hope to get. It plays on the summer wanderlust and pulls us in.
The addition of last names is genius for two reasons. First, it brings back the excitement of trying to find your name on the shelves. Second, people will want to buy two Cokes instead of one. Since first and last names are on separate bottles, consumers are encouraged to buy two Cokes and make their full name. Who knows, maybe people with middle names will buy three.
But, what makes this campaign so successful? Personalization and connection. Consumers can find part of the brand that is, in a sense, theirs. It's a "look that's me!" factor. At the DOmedia office, we searched for our names every time we bought a soda. And, we bought more sodas that summer than usual. It just added to the Coke experience. Relating back to the consumer is huge in today's marketing environment, and Coca-Cola has continued to be an outstanding example of hard-to-achieve success.
Creative campaigns like these are what brands need to aim for to get their message heard. But, planning complex campaigns requires sophisticated tools. Initiatives like this inspire our team to keep pushing technology forward so that advertisers can focus on strategic thinking and creative execution. Want to learn more about how DOmedia powers agencies, brands and media vendors to be "OOH heroes"? Contact sales@domedia.com