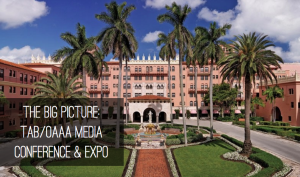 Picture this: two of the biggest organizations in out-of-home advertising, the best and brightest individual minds, and marketers from across the country converging in paradise. That's The BIG Picture: The 2016 TAB/OAAA Out of Home Media Conference and Expo.
If you're familiar with the OOH, chances are you've heard of the TAB and the OAAA. The Traffic Audit Bureau is the most important source of out-of-home media data and ratings. The Outdoor Advertising Association of America is the leading national trade organization whose vision is "to lead and unite a responsible OOH advertising industry committed to serving the needs of advertisers, consumers, and communities." The OAAA's member companies represent more than 90% of industry revenue.
This year's Boca Raton event takes a look at The BIG Picture of the advertising landscape. The focus will be on the changes and challenges every marketer experiences- and more importantly, how to manage and overcome them.
Everybody has something to gain from the events and speakers. Here are a few we're super pumped for. Continue reading →