DOmedia was honored as an OnMedia top 100 private tech company.
The seventh annual OnMedia conference was held in New York City March 17th and 18th and was a celebration of the innovative people, companies, and ideas that are connecting and empowering the world.
The field was full of household names '€" Twitter, Pinterest, Square, Uber and Tumblr '€" and was dominated by tech companies with coastal headquarters and superstar financiers.  All of the '€œbuzzy'€ industry segments were present and accounted for.  Digital media, cloud, big data, real time bidding, and community platforms… BINGO!
This year's overall '€œwinner'€ was AppNexus '€" the world's leading cloud-based real-time-bidding exchange for digital online.  AlwaysOn's Tony Perkins conducted a fireside chat with AppNexus CEO Brian O'Kelley.  They discussed the genesis of the company, how Brian raised his first dollar from Marc Andreesson and Ben Horowitz (before they were '€œAndreesson Horowitz'€), their early pivots, and the challenge of scaling a business while raising a family.  The story was a remarkably familiar one.  Brian had a great idea, a supremely tailored skill-set to execute on that idea, and was able to plug into an ecosystem and '€œride the wave'€.
DOmedia was the exception to the rule in this year's OnMedia 100.  We are headquartered in '€œSili-corn-Valley'€, operate a business in a decidedly non-sexy industry (Out-of-Home), and build technology tools that empower media planners, buyers, and sellers, rather than replace them with algorithms.  When it comes to buzzword BINGO, we are holding an empty card.
So how did we even make this year's list?  The answer is simple.  The answer is YOU.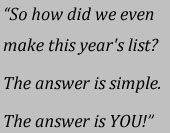 Our growth, our dynamism, and our success is driven by you '€" our partners and our customers.  Whether you work at a the worlds largest agency, or the worlds smallest media company, we believe at our core that you planners, buyers, and sellers in the Out-of-Home industry (and those in digital, mobile, social, et al) are the most valuable assets that your company has.  We are not discounting the value of big data.  We believe in analytics and we believe in the efficiencies that programmatic tools can bring to media buying.  But we also recognize the value of experience.  We recognize the value of the expert.  That is why we build the tools we do.  That is why we work every day to empower you '€" make you faster, smarter, and more efficient.
We are honored to be recognized by AlwaysOn, but more importantly, we are honored to work with all of you.