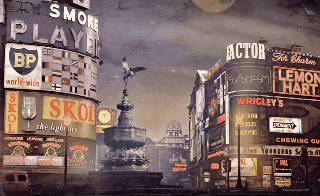 One of my favorite things about DOmedia is getting to work with the entire out-of-home industry. I get to read about, talk about, interact with, and write about the best of the modern leaders, ideas, mediums and more. I get excited when people ask what I do, and I dive into everything about the DOmedia marketplace and all the exciting things happening in the industry.
Usually, though, I get a bit too excited. I'm met with an enthused but confused face, begging the question, "so… what's out-of-home?" And the easiest way to explain it is simply, "think billboards."
Billboards are the archetypal out-of-home media. Among the countless innovative OOH mediums and assets available to advertisers today, billboards stand as tall as, well, billboards. They've been around since the early days of outdoor advertising, and continue to be one of the most popular mediums available.
Humble Beginnings
For all the technology and innovations in OOH today, we have grease and water to thank. In 1796, the process of lithography was perfected, using the repelling nature of printing oil and water on a smooth surface of limestone, transferred to paper.
This was the method that finally allowed mass printing, including posters. Flyposting was the early tactic of putting advertising posters and flyers in public places (sometimes with permission, sometimes not.) Think about the "lost cat" flyers you see on telephone poles– but bigger, and on buildings.
Slowly, posters moved to freestanding structures called billboards, where they wouldn't be taken down or posted over. This also allowed them to be placed at desirable locations of heavy traffic. Circuses were some of the first businesses to really utilize this new format.
In 1872, the International Bill Posters Association of North America was established, later changed to the Outdoor Advertising Association of America. The OAAA is still the premiere OOH advocacy group.
Gaining Steam
At the very beginning of the 20th century, the fledgling industry established a standard billboard structure and size. This ushered in a new wave of national billboard campaigns. Now that national brands knew their ad would fit billboards from coast to coast, they began to coordinate billboards as part of a national campaign.
A few years later, another milestone brought another wave of popularity to billboards: Ford introduced the Model T. People hit the roads, and advertisers followed across the highway system.
As the country worked its way out of the Great Depression, businesses needed to get smarter about bringing in customers. The Traffic Audit Bureau (TAB) was established in 1934 to provide ratings for out-of-home media. The burgeoning billboard industry was garnering recognition as an important medium, and it needed a rating system to legitimize it.
A National Stage
After the two World Wars, America was ready to start consuming again. Brands were ready to answer the call and came out in full force with advertising campaigns. In addition, the government turned its attention back to its own infrastructure. As a merger of these two movements, the Highway Beautification Act was enacted to keep billboards on federally-funded highways under control, in turn helping to settle the OOH marketplace.
Of course, as with any form of advertising, starting in the 1970's, cigarettes had a lasting impact. The 1971 Public Health Cigarette Smoking Act banned cigarette ads in television and radio. Where did all that ad money go? For a large part, to billboards. This was responsible for significant growth in the popularity of billboards. As cigarette companies poured their dollars into billboards, other industries took notice of the success and began to increase their OOH budgets.
By the time the cigarette advertising ban was extended to billboards in 1998, the medium was enjoying high demand across many industries.
Modern Developments and The Future
For such an old form of advertising, changes are inevitable. In 2007 the industry adopted a new plastic poster format, allowing posters to be printed in one sheet. Old forms of vinyl were replaced with more environmentally-friendly materials, such as polyethylene.
The 21st century brought in the first digital billboards. Now, brands have the advantage of flexibility at their fingertips. Messages can be added, changed or pulled quickly. Dynamic content can show different messages during commute hours, or during specific weather conditions.
The concept of a billboard has endured every other advertising medium. It has certainly changed, but the wonder of OOH advertising is that it's still just as relevant today as it was back then. DOmedia is proud to be working in the industry to change the way media is bought and sold. We support out-of-home media, and we're excited to help usher in the next stage for the industry.
Like This Article? Share It!