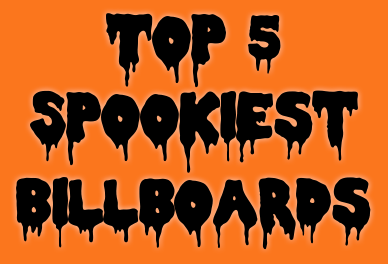 It's finally time for the spookiest holiday, Halloween! Use this season to get creative and dress your billboards up. To get in the Halloween spirit, take a look at our top 5 spookiest billboards!
---
I mean is this the sickest billboard or what ?! Or am I just sick (in the head) #HALLOWEEN #MichaelisBack #inmycloset #help #butimgonnagoseeit pic.twitter.com/ehn5vNxeqp

— Brooke Hutton ⭐️ (@brookehutton) September 27, 2018
The billboard for the new Halloween movie is simple, yet very effective.  With just the title of the movie, the theater date and a single image of Michael Myers, the advertisement is eye-catching and creates excitement for the movie. Michael Myers is iconic and the Halloween franchise is a classic and the billboard reflects this. This billboard creates buzz for the movie as well as the Halloween season.
---
Halloween is a great time for creative outdoor advertising. I really want a @fanta now. #iHeartBillboards #billboards #halloween pic.twitter.com/N3ZLutHlg9

— Kelly Pruitt (@KellyPruitt1) September 29, 2016
Fanta takes their Halloween advertising to a new level. They update their cans, packaging, and slogan. The billboards follow suit with a new spooky look. Fanta uses their signature orange accompanied with black for a classic Halloween color scheme.
---
This article was originally published by BillboardsIn. You can continue reading the rest of the countdown here.
Like This Article? Share It!