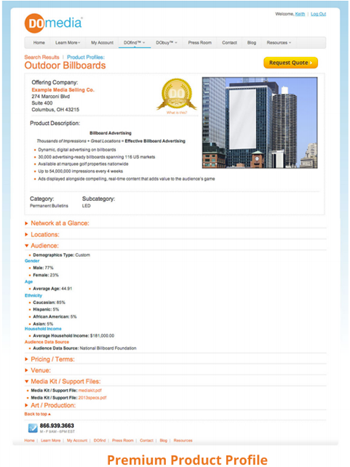 Having the industry's largest marketplace for OOH agencies, advertisers, and media sellers also brings a large challenge – keeping search results accurate and highly relevant. In order to improve the search experience for buyers and maximize exposure for sellers, DOmedia has just launched a Subscription Profile service. This help buyers find what they are looking for easier and brings REAL business opportunities to sellers.
With the new Subscription Profiles, DOmedia's team builds and customizes your media profiles, with information you provide, to optimize your exposure in our internal as well as all external search engines. A Subscription Profile represented as a unique category/subcategory combination includes location level detail as well as free leads from request quote traffic. And we'll keep your information, including locations, media kits and images  updated with a quarterly audit and incorporate any changes necessary to your profiles. Company and Basic Profiles are still free to create yourself, but the depth of information included with Subscription Profiles will increase your visibility significantly.
Gain visibility using DOmedia's marketplace
» Over 700 registered agency and advertiser companies – all out-of-home formats
» Projected $1 billion in media planning/buying in 2013
» Thousands of real business opportunities (RFPs / RFQs)
» Manage RFPs easily from a single dashboard. Get updates and revise proposals quickly
» NEW – "Subscription Profiles" provide detailed media information for agencies to find and buy from you
More details about Subscription Profiles
» Give the buyers what they want – accurate and comprehensive information
» Detailed information at the buyers fingertips create a better buying experience including profiles with audience information, locations, rate cards, and media kits
» Stand out from basic profiles – Subscription Profiles include a "badge" and have preferred search result placement to help buyers find solutions with comprehensive information
» DOmedia reps will update your profiles quarterly to ensure accuracy
» Receive free sales leads from "Request Quote" links on all of your profiles
Media planners and buyers want to know which profiles have complete planning information – Subscription Profiles will include a badge differentiating them and also have preferred search result placement so they are easy to find and view.
The annual Subscription cost is also 100% rebateable against your annual RFP fees, so it can pay for itself with successful orders placed through DOmedia. See more here or contact sales@domedia.com and we'll get you started!
Learn More About Subscription Profiles »
Like This Article? Share It!