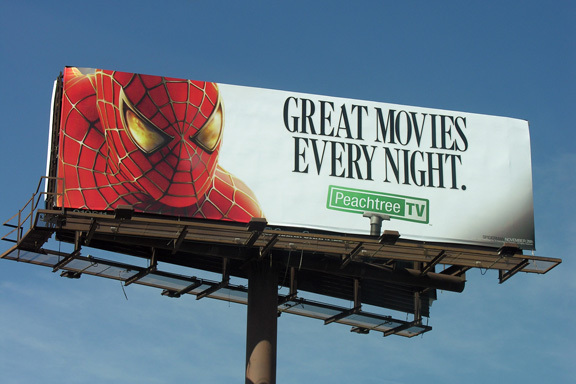 Why buy billboard ads? In a world of smartphones and constant mobile connectedness, traditional billboards almost seem archaic, don't they? They're static! They're silent! They're vinyl, for pete's sake! It's easy to write off billboards as the advertising king of the decades long past. Being wrong is always easy.
According to the OAAA, there are currently over 158,000 traditional billboards in the United States today. Advertisers are still using billboards, but how many consumers are actually seeing them? Let's take a look at this Arbitron Out-of-Home Advertising Report.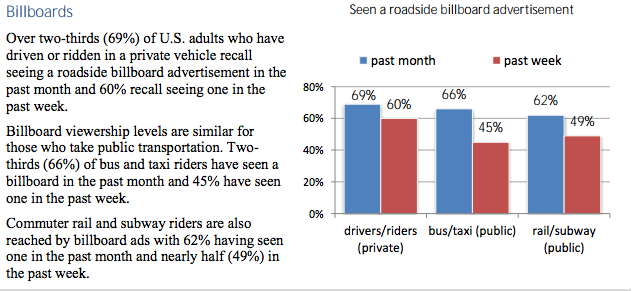 Arbitron Out-of-Home Advertising Report
A very high percentage of people are in fact seeing billboards. Seeing doesn't necessarily mean engaging with. Of the people who notice billboards, how many are paying attention to them?

Arbitron Out-of-Home Advertising Report
It's pretty clear that lots of people are seeing and engaging with billboards. This is all relevant because the same report found that almost one-third of travelers are making purchasing decisions while they are in their car and that two-thirds are making purchasing decisions while they are outside their home.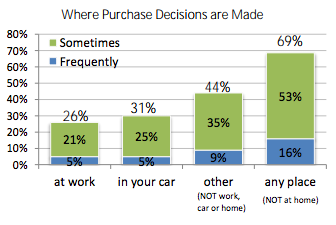 Arbitron Out-of-Home Advertising Report
The above numbers should make it obvious that billboards are invaluable to marketing campaigns. Advertisers are still buying billboards because they're still very effective marketing tools. Instead of competing, newer technology is actually helping billboards be even more effective by utilizing location data that lets you target your demographic with billboards like never before.
Not only does technology make for more effective and targeted billboards, but research confirms that that adding billboards and other out-of-home media to your digital or mobile marketing campaign increases your reach and response rate. Too many people ask themselves if they should go with out-of-home, digital, or mobile advertising, instead of understanding how a solid campaign should effectively incorporate all three.
Why buy billboard ads? You should buy billboard ads because they're effective marketing tools. Location data has made them even more effective. Adding them to your digital and mobile campaigns makes them most effective. The data suggests that the real question is: why wouldn't you buy billboard ads?
Like This Article? Share It!