Throughout the years, we've steadily grown to value pop culture. From giants like the Marvel Cinematic Universe, Disney, and Star Wars to more niche fandoms like gamers and anime fans, everyone's got their thing. 
And, if you're anything like us in terms of advertising nerdom, when you see any type of billboard or other out-of-home (OOH) ad in your favorite piece of media, you have a slight fangirl moment. It's cool for a couple of reasons: one, seeing industry representation for what may not be publicly viewed as "glamorous," is really cool; and two, it's a reminder that the work you do every day is, put simply, iconic. 
A little while ago, we posted this YouTube video about OOH advertising and its presence in film; for example, movies like Three Billboards Outside Ebbing, Missouri and Billboard Dad showcase billboards in different ways, but can be main plot points within film. Three Billboards Outside Ebbing, Missouri even managed to spark some copycat campaigns. 
One of our favorite examples of OOH in pop culture is from the 1995 Japanese anime film, Ghost in the Shell. The movie features frequent cityscape shots with abundant signage, resulting in a beautiful, urban aesthetic. 
Other Japanese anime feature billboards in their more traditional forms, like this downtown area of Ganymede in Cowboy Bebop; or, in the My Hero Academia universe, Esuha City; or even the scene in Paprika in which the protagonist runs through various billboards.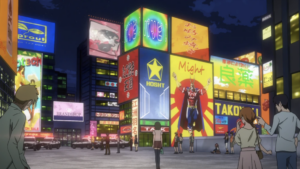 Another obvious (yet still amazing) instance of seeing OOH in media is practically anything that takes place in New York City—or even just when characters take a trip to the big apple. With such a famous hub of digital advertising being TImes Square, any movie or show with scenes in that tourist hub is bound to display those digital billboards in all of their glory. 
For example, in Glee, the New Directions take a trip to New York City for a competition, and many of their downtown scenes very prominently feature digital ads in Times Square. Additionally, movie series' like Spider-Man, for example, regularly display outdoor ads as a method to add to the atmosphere. 
Other movies with prominent billboards include The Great Gatsby, A Star is Born, and, funnily, this Cars 2 billboard in the Muppets. 
There are even novels about billboards, like Billboard Man by Jim Fusilli and The Billboard by V.E. Suárez, and outdoor ads are sometimes featured in video games, like Yakuza. 
Like This Article? Share It!