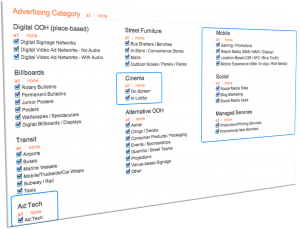 This week we released exciting new features to DOmedia which expands our marketplace to include emerging media categories!
We've added new categories in DOfind to help you find the latest advertising opportunities and next cool company for your ad campaign. Emerging media such as mobile and social advertising is rapidly converging with other media and advertisers have been demanding it. Use DOmedia to stay up to date on emerging media and find innovative media partners for your next ad campaign.
Have an idea of what you'd like to accomplish, but not exactly how? We've added a Managed Services category with world-renowned experts in their fields.  These companies can help you with strategic planning, procurement, ad-placement, campaign optimization and post-campaign analysis services.
Check out the new categories & how they breakdown.