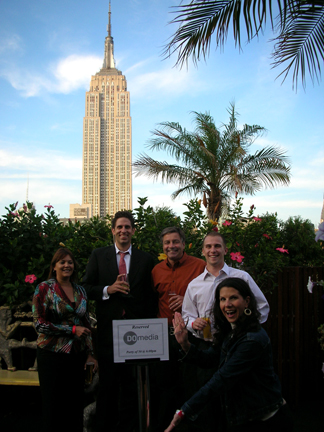 It's hard to believe that another OAAA STAR Showcase has come and gone. DOmedia made its industry debut at the same event last year and what a difference 12 little months made! While we followed the same itinerary as '07, everything was bigger, bolder and better in '08.
While Advertising Week officially started on the 22nd, we kicked ours off on Wednesday, Sept. 24th with a jam-packed cocktail party 20 floors above the bustling city streets. With palm trees, hibiscus flowers and the Empire State Building as a backdrop, our rooftop soiree gave us a chance to get to know current and future clients in a relaxed, fun-filled and star-drenched setting. A HUGE thanks to everyone who stopped by, including representatives from Massive Media, Indoor Direct, The Wall Street Journal Office Network, VH1, OOHPitch, Deutsch, Do It Outdoors, Mediaweek, and many, many more! I also want to give a major shout-out to everyone at 230 Fifth who made sure our glasses never went empty and tasty treats were never more than a few steps away!! Check out all of our pics from the evening's festivities on our Flickr page.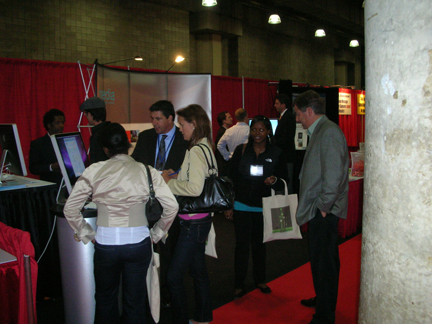 Having enjoyed such a fantastic night, we floated on into the OAAA STAR Showcase Thursday morning, ready to greet our new friends and introduce even more people to the world according to DO…oh, and give away a 16GB iPod Touch. While the iPod may have brought people into our booth, it was the site itself that kept people there. With three brand-new iMacs set-up and ready to go, we had the chance to give all of our guests a guided tour of our online offering. The feedback was overwhelmingly positive, reinforcing our commitment to simplify the buying and selling of alternative and out-of-home media. Playing in such a dynamic, growing and ever-morphing sandbox can be a challenge…DOmedia is here to make it more manageable for everyone involved in the process.
To everyone we had a chance to meet while we were in New York, thanks! Your feedback, insights, comments and camaraderie helped to make the STAR Showcase one of the best events of the year for us. Keep the suggestions coming!
Like This Article? Share It!