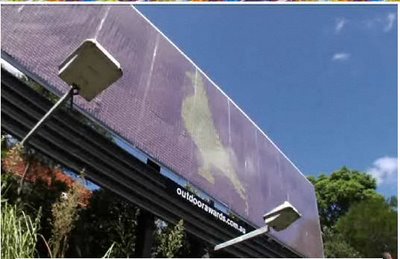 Australia's Outdoor Media Association has launched a creative outdoor campaign–for a contest rewarding creative outdoor campaigns.  The newly created contest, called The Outdoor Awards, will judge the year's best outdoor advertisements across 11 categories.
Every year, the best creative work will win a prize valued at $10,000.  This year, however, the association is striving to show the effectiveness of outdoor advertising by producing the prize in the form of a billboard'€"covered in 10,000 $1 scratch-off lottery tickets!  The billboard, which is heavily guarded 24 hours a day (so don't even think about it!), is located on the side of a Sydney road where 100,000 cars pass every day.
The launch of The Outdoor Awards campaign actually began in October when OMA utilized yet another OOH medium.  For 40 days, a mobile billboard truck was driven over 10,000 km in Australia.  The message displayed on the truck was simple and to the point: '€œTHE OUTDOOR AWARDS ARE COMING'€.
With their lone billboard, OMA is raising national awareness of the contest, showing the effectiveness of a creative outdoor ad, and presenting the actual prize to a large-scale audience.  Talk about killing two birds with one stone . . .
Oh, and good luck to the winner.  May your incredible, award-winning creativity aid you in scratching off 10,000 individual lottery tickets before reaching insanity.  I hope you have a lot of pennies . . .
Like This Article? Share It!