KFC's Colonel Sanders has temporarily left the world of fried chicken to instead fill in potholes.  Following the recent trend of cause-marketing, the company is now helping local governments by fixing their streets.  In return, KFC can market their "Fresh Tastes Best" campaign by stamping "Re-freshed by KFC" on the freshly laid pavement.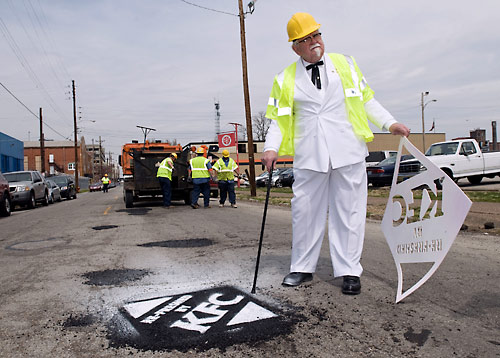 The current economic landscape provides the perfect opportunity for corporations to stand out by connecting with local communities in a meaningful, helpful way.  According to Advertising Age, this trend of cause-marketing appears to be growing.  For example, Charmin provided a public restroom in Times Square for the third holiday season in a row.  Along the same lines, Starbucks donated about 400,000 hours of community service towards the rebuilding effort in New Orleans.  And the shoe company Toms donates a pair of shoes to a child in a developing country every time a pair of their shoes is purchased.
Hopefully we'll soon see many more marketing efforts like the one from KFC–which began in hometown Louisville, KY, and will seek out four more cities before returning to the life of chicken and mashed potatoes.
Like This Article? Share It!