Carnival Cruise Line has done it again.  In the most recent phase of their newest marketing campaign–taglined "Fun for All, and All for Fun"–the company has introduced six massive, interactive aquariums around the country.  The computer-animated aquariums will appear in vacant storefronts in Baltimore, Dallas, L.A., New York, Washington D.C., and Houston through the end of April.
Designed to interact with passersby, the fish and plant life react to motion as people walk past.  Using their cell phones, pedestrians can go a step further by creating personalized fish by making various sounds into their phones and using the keypad to swim the fish around the aquarium.  The fish even change in size and shape when consumers lead them to food!  And don't worry about having to leave your newly-made friend.  Pedestrians can retrieve their fish by coming back later and using the same cell phone.

The interactive aquariums are only one part of Carnival's impressive marketing campaign the past six months.  They kicked it off in a huge way when they broke their first Guinness World Record.  In downtown Dallas in late October, they dropped the world's largest volleyballs, measuring 36 feet in diameter, into a crowd of 2,500+ people!  Then in November, they broke yet another record in Philadelphia with the world's largest pinata.  The pinata, which rose over three stories, was filled with 2 tons of candy!  Talk about a sweet tooth . . .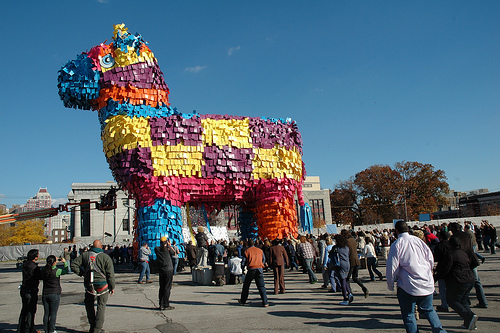 Like This Article? Share It!