I'm, of course, talking about Sony Ericsson's most recent out-of-home advertising campaign (what'd you think I was talking about?).  Sony's C905 model cell phone is out to show everyone its 8.1 mega pixel camera can hang with the best of digital cameras.  And to prove it, they turned an Amsterdam bus shelter into a photo opp session, complete with a C905 camera and touchscreen.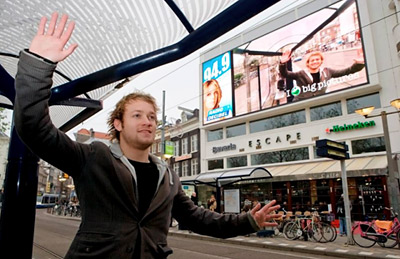 People could then strike a pose for everyone nearby, and their picture would appear on a massive screen across the street, temporarily looking down on passers-by.  I can only imagine the photo gallery from something like this . . . especially in a city like Amsterdam.
Like This Article? Share It!