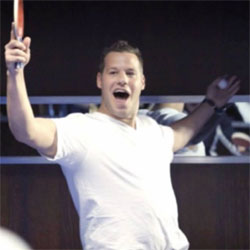 Bud Light has used its latest Super Bowl ad to introduce its new tagline: "The Perfect Beer For Whatever Happens."
Incase you missed it, a hidden camera followed an unknowing guy named Ian who meets a woman named Kelly at a bar in New York and agrees he's up for "whatever happens next" when he accepts a Bud Light.
The next thing he knows, Ian is in a stretch limousine filled with beautiful women and comedian Reggie Watts on their way to a bachelorette party.
The video ends with an epic party, but not before Ian meets a string of celebrities in a series of awkward yet hilarious encounters.
Ian is a great sport about the whole once in a lifetime experience, and jokes about his return to work at a DOmedia registered vendor, CMS Consulting Group.
Back to work for me! My client just emailed me this – "You're #upforwhatever including providing delivery info for bus shelters. Nice. "

— Ian Rappaport (@I_Rapp) February 4, 2014
CMS Consulting Group is a national Out-Of-Home (OOH) advertising corporation offering targeted media solutions to meet the needs of our clients.
When your #UpForWhatever in your next media campaign on DOmedia, consider Ian and the CMS Consulting Group. Who knows, you might just have a once in a lifetime media buy!
Did you miss the commercial? Here's the video compilation from the commercials during the Super Bowl:
Like This Article? Share It!