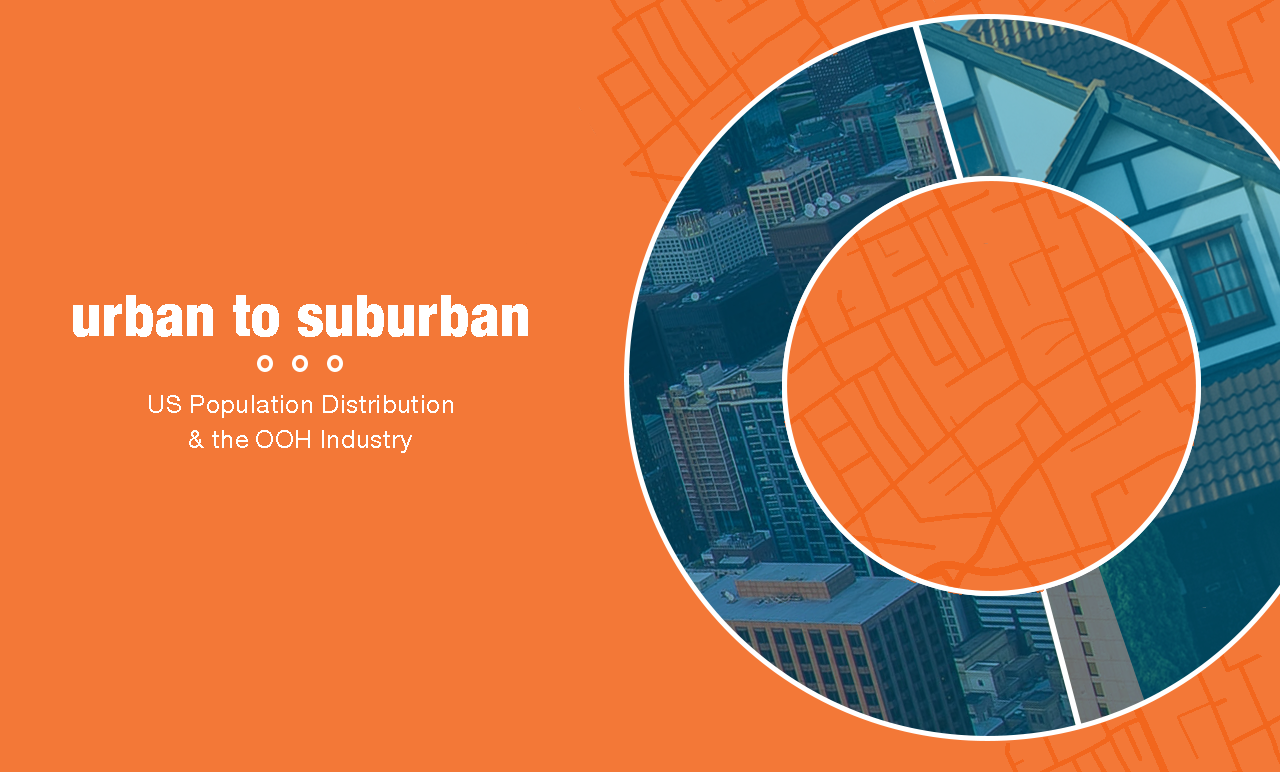 It is estimated that 66% of the world's population will live in urban areas by the year 2050. Global urbanization is occurring quickly and having a profound impact on the lives of millions. In the US, however, the population is shifting in an unexpected way. This post will examine population distribution in the US and determine its impact on the OOH industry.
Population Trends
The common trend in thought is that the US is undergoing major urbanization. It is assumed that millennials are opting out of the suburban lifestyle in favor of city living at historically high rates. This, however, is only partially the truth.
A deeper examination of the current situation reveals that the US is actually trending towards "suburbanization." In America, there are 51 metropolitan areas that have a population of at least 1 million. Of those areas, only 9 have experienced growth in their urban cores. Instead, much of the growth that has occurred in America has happened in the suburbs that surround these large metropolises. These areas are experiencing growth at a rate slightly greater than 2%, which is considerably faster than the growth of urban city centers. Although the populations of cities are generally rising, it is not due to a mass migration. This growth instead follows the broader increase in population in the US.
So even though cities aren't growing as fast as it might be assumed, they are still growing in some areas and among certain demographics. Affluent college-educated individuals are flocking to cities at a historic pace, and cities in the Sun Belt are defying the odds and growing at unexpectedly high rates. In fact, college educated millennials are around 50% more likely to move into an urban area than individuals without college degrees. Only around 32% of people aged 25-34 actually have a bachelor's degree, so a considerable chunk of this population is still living in suburban settings. All of these trends are creating shifts in the OOH landscape.
Future Impact on OOH
Ads located between cities and suburbs will become OOH gold.
With the general population moving out of the city and into the suburbs that immediately surround it, OOH ads located between the urban core and the city's outer rim will gain increased significance. These ads will engage this increasing population as they make their daily commute from the suburbs, and capture the attention of tourists visiting the city. Additionally, these locations will also target individuals who choose to live in the city, but work in less densely populated areas.
Suburb advertising will become more popular, and the annual amount spent to purchase it will increase dramatically.
Suburbs are growing, so it is reasonable to think that more ads will be placed specifically in these areas in an attempt to target this growing population. Ad budget will follow the movement of people, and ultimately cause increased spend in these high population, low-density areas. Also, advertisers are gaining more and more access to information that tells them who these people are, and the motivations behind their actions. This coupled with the power of OOH will allow advertisers to create powerful campaigns even in suburban neighborhoods.
Ad formats tailor-made for cities will shift their strategy to target the millennial audience.
As stated earlier, young college-educated individuals are moving into cities at a very high rate. This movement will cause ad formats, such as transit and street furniture, to change their tactics in an effort to target the millennial population. Although experiential may be the format that resonates the most with millennials, as this population moves into cities, transit and street furniture will soon be competing for the top spot.
---
Whether you prefer advertising in urban settings or suburban neighborhoods you should always start your campaign planning process at DOmedia, the host of the largest database of OOH vendors in the US!
Like This Article? Share It!