Trick or treat?!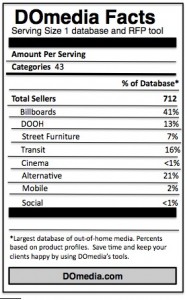 Like most people in the fall, our users often get a sweet tooth around the Halloween holiday… Some have a sweet tooth for out-of-home (OOH) media in the advertising industry.
Give into your cravings while you check out a healthy alternative to Halloween candy on DOmedia.  Composed of 700+ media sellers, DOmedia has the largest database of media sellers in the OOH industry.
Want to take a bite of the OOH advertising industry in your next media buy? See the "nutritional facts" of OOH media categories you may choose from in your next search on DOmedia.