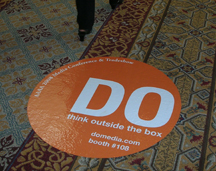 While we're still a few months away from our official "coming out" party, having the chance to present the DOmedia concept and beta site to the industry's most influential players was an opportunity too good to pass up. When we arrived in sunny Orlando, Florida on March 4, very few people attending the AAAA 2008 Media Conference and Tradeshow had heard of DOmedia (which has been by design…we wanted to develop the site further before we threw back the curtains). However, following some fast-and-furious development and design efforts, we decided now was as good a time as any to make ourselves known.
And so, through a lot of creative thinking, sweat equity and some amazingly talented Aarrow Ads sign spinners (check out the video we shot), DO was everywhere. In attendees' hotel rooms on their "DO not disturb" doorhangers and in their special gift packages. On the floor leading from the hotel to the meeting rooms (thank you Street Blimps!). On the free pins we were passing out and on super-special, light-up bouncing balls. After two solid days of DO everywhere, we certainly got people's attention.
But more importantly, we had a wonderful opportunity to talk to industry professionals from across the country who were equally excited about what DOmedia can do to save time (read: money), encourage creative thinking and serve up new ways to connect with others in the advertising and media biz. We'll be spending the next few days and weeks reconnecting with everyone we had a chance to meet in Florida and refining our development to reflect the feedback we received at the show. This is when the fun begins!
Like This Article? Share It!