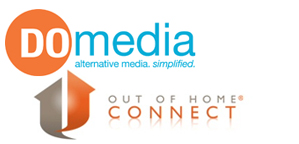 Have you heard the news? Effective today, DOmedia has merged with OOH Connect (aka Out of Home Connect), an industry website with a similar vision to simplify the discovery and coordination of alternative advertising media. Managing partner, Kim Ramser, is a veteran of the outdoor advertising world, having built her career with such notable organizations as Clear Channel Outdoor and the Outdoor Advertising Association of America (OAAA). She brings a wealth of experience and a well-rounded perspective to the DOmedia team. We are looking forward to working with her going forward.
Now, as excited as we are about this news (heck, we've been looking forward to this day for several weeks now) perhaps more surprising has been the amazing media response we've received following the press release (which hit the news wires this morning). Already, blue-chip publications Adweek, Mediaweek and Columbus Business Journal have covered our announcement. We also hit the Yahoo! Finance News. Given the fact that the news officially broke less than 12 hours ago, that's not bad coverage.
We're still working through the details of the integration, but in the short term, you will begin to notice a lot of cross-promotion between our two sites and we'll each begin leveraging each other's strengths (information on the OOH Connect site, marketplace tools on the DOmedia site) via cross-links to richen the experience for all of our users.
The best news out of this is the simple fact that working together will allow us to accelerate our development of a content- and feature-rich online resource that will make our customers' lives just a little easier…and have a lot of fun getting there!
Like This Article? Share It!