Columbus' own Orange Barrel Media thinks so . . . and by looking at its past and present out-of-home campaigns, we'd have to agree. Just take a peak at some of the examples below. It's basically impossible to ignore an ad that literally jumps out at you like the Columbus Crew soccer ball on the side of downtown's Brunson building. Or how about the Nationwide Insurance "Life Comes at You Fast" ad that instantly grabs your attention and makes you do a double-take (or in my case–for a split second–makes you utterly confused about/concerned for the cars in the parking lot now covered in bright yellow paint).
Recently, Orange Barrel added another visually tantalizing advertisement to one of Easton Town Center's exterior walls. The new wallscape features Ohio-based avitae energy water. And they actually mean energy water: purified water and natural caffeine. Period. And who better to go to when trying to promote a new product in a huge way? Orange Barrel, of course. The outcome: a gigantic, impossible to miss wallscape located in one of Ohio's most visited tourist attractions (about 21 million people/year according to a recent press release). The ad shows a huge avitae bottle splashing pure, blue energy water down the wall and into a pipe. Just looking at it makes me thirsty.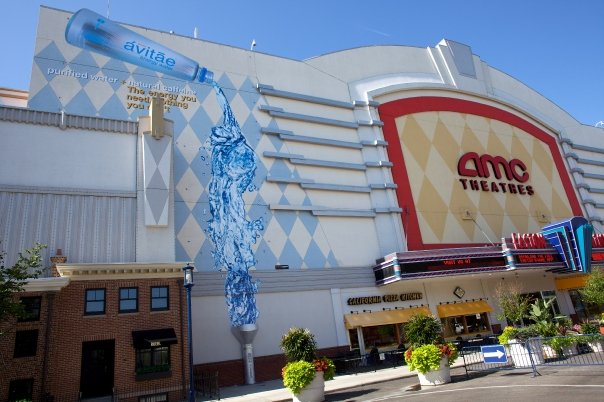 After seeing everything they've done before, I can't wait to see what Orange Barrel comes up with next. And I definitely can't wait to try this water and finally ditch the daily coffee . . . and soda . . . and Red Bull.
Like This Article? Share It!