Well, you can't blame the Captain for trying.
According to Media Life, Captain Morgan came up with a plan to get NFL players to pose in the iconic Captain's stance (knee up, hand on knee, other hand on hip… assuming you're short a sword) after scoring a touchdown. In return? The rum company would donate $10,000 to the Gridiron Greats Assistance Fund for each player who struck a pose during regular season, $25,000 during playoffs and $100,000 during the Super Bowl. Not a bad deal considering 30-second TV spots can cost millions and still don't generate buzz like many guerrilla advertising stunts do.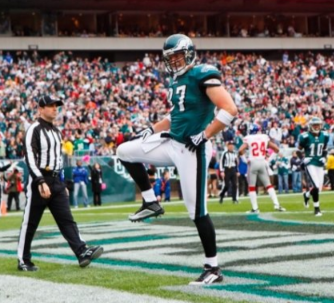 Unfortunately, Philadelphia Eagles tight end Brent Celek got a little too eager and decided to pull out the move in a game against Dallas nearly a week before the campaign was supposed to kick off. Although the cameras caught it all and Captain Morgan still got its moment in the end zone, the NFL jumped on it almost immediately in an attempt to safeguard existing agreements and sponsorships. So even though there will be no more celebrating with the Captain during game time, it was still a great plan and even succeeded in creating the buzz it set out to.
Like This Article? Share It!