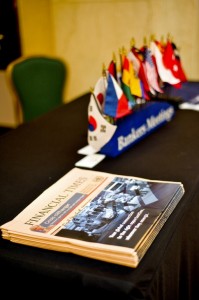 Media buyers representing global brands whose target consumer profile is defined partially or in whole by high household income (HHI) are met with placement challenges. One in particular is the number of out-of-home (OOH) advertising options that meet the demographic requirements of their clients. Identifying advertising vehicles that connect with consumers in the $75,000+ HHI shrinks the number of companies that can receive RFPs for global brands that have strong ties to affluent products and lifestyles. Advertising with the Financial Times delivers brand messaging to a readership group that has an average HHI of $366K and average net worth of $2.9M.
According to the 2011 Mendelsohn Affluent Survey, readers of the Financial Times are in more C-suite executive positions, have a higher household income, are more likely to buy a car or home, spend more on apparel and accessories, and make more luxury expenditures than readers of:
The Economist
New York Times
Fortune
Wall Street Journal
Bloomberg Businessweek
Forbes
USA Today
The full
Mendelsohn Survey Financial Times
 is available for download here and in the Media Kit/Support Files section of the Financial Times company profile on DOmedia. The Financial Times is sponsoring 16 globally relevant events in 2012. The full list is available for review in their DOmedia profiles. One event series is sponsorship opportunities on the Formula1 Racing Circuit. Formula1's partnership with the Financial Times delivers the largest audience and potential impressions of all sponsorship events scheduled in 2012. Below are details on the multiple options available to advertise at Formula 1 Events.
Formula 1 Canada 2012 Advertising Options
2012 will be an exciting year, Formula 1 United States Grand Prix returns to America after a four-year absence. Join us for an exiting moment in history. In 2011, the British Grand Prix saw 85,000 fans attend on the Friday of the event, 105,000 on Saturday and 120,000 on the Sunday, a weekend total of 310,000. Formula 1 attendees are on average, 73% Male and 27% Female, come from a national and local reach for events and driving experiences. 58% are between 25 and 54 years old and the majority are from a professional background. The audience is brand loyal, lifestyle conscious and relatively affluent.
Date: June 8-10, 2012
Location: Montreal Canada
Audience: Telecoms wholesale community
Opportunity: be the first thing Formula1 attendees see by branding copies of the FT and going to the top hotels in Montreal.
Option 1: Just to the race
FT with your branding to be handed to the crowds entering or exiting the stadium
Estimated copies: Sunday Race Day 4,000 Copies
4,000 copies total
Option 2: Hotels
Send copies to the top hotels in the area
Friday Practice 2,000 Copies
Saturday Qualifying 2,000 Copies
4,000 copies total
3 Ways to Reach Readers
There are three advertising options available, Full Cover Wraps, Onserts, and Stickers.
For examples of previous sponsorship partners see the video gallery for case studies on campaigns branded by Bank of America, Bentley Motors, and Tiffany & Co.
For more information on Formula1 sponsorships and a complete listing of available branding and experiential opportunities see the Financial Times Company Profile on DOmedia.
QUOTES ABOUT THE FINANCIAL TIMES
"The FT is the leading source for daily international news". – Warren Buffet "I read the Financial Times before other people read the Financial Times. Now it's trendy and everybody carries around a Financial Times." – From an FT interview with President Obama (March 2009)
Take Action
View Financial Times Profile   Download Mendelsohn Survey
To get a quote and see a complete listing of available branding and experiential opportunities, see the Financial Time Company Profile on DOmedia and click request quote.
Like This Article? Share It!