Merge Healthcare automated blood pressure health stations offer static advertising in over 15,000 blood pressure kiosks located in the pharmacies at most major retailers. The largest retail network partners are CVS, SuperValu, Publix, Kmart and Safeway. Merge has over one million "measured users" each day focused on their Health and Wellness activities, products and awareness. The Merge network of in-store kiosks have unmatched scale and reach regarding in-store integrated media.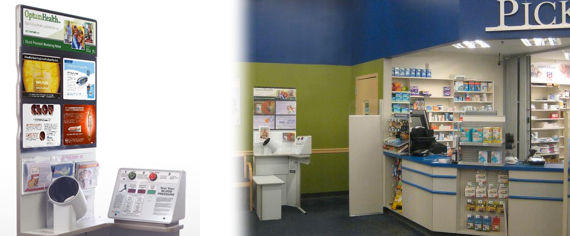 Request a Quote from Merge Healthcare
Merge Healthcare kiosks have two significant measures of their audience, measured users and impressions. Measured users are the number of people who participate in a blood pressure assessment. Impressions are the commonly conceived measure of impressions in a specific venue. In an average 30-day cycle Merge delivers 1,560 new measured users and 6,313 impressions. The dwell time for measured users is a minimum of 60 seconds; they are literally locked into your advertising! The 60-second dwell time is the longest of any in-store advertising program.
Previous Merge advertising partners from Proctor & Gamble, Kraft (Cadbury & Halls), Kimberly-Clark, Kellogg's and Orange Juice (FDOC) all saw same store sales lifts during campaigns with Merge. The ability to deliver uninterrupted advertising drives home a brand's desired call to action. With multiple panels available on the healthcare kiosk branding messages can be delivered along with calls to action. The most popular call to action is informing the kiosk user of the locations of products within the store. Users leave their wellness assessment ready and poised to walk down the nearest isle and buy your product. Here is a sample of same store sales lift provided by Merge advertising campaigns.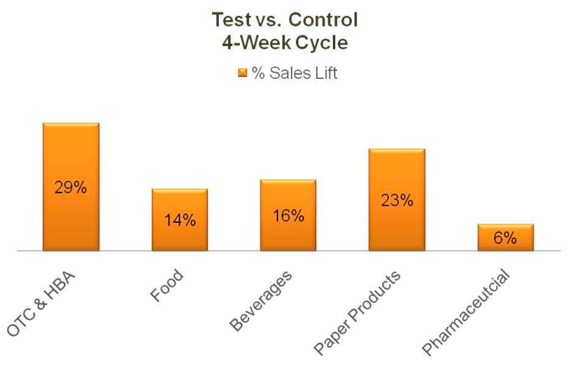 Source: Independent analysis of programs conducted by SPAR/Burgoyne Retail Services & MASI International
Merge is offering major price resets for Q4 2012 continuing into 2013. For full board buys that provide 100% share of voice for measured users buyers will receive a discount of 75% off rate card! At rates this low the available inventory will not last. Here is the DOmedia product profile for Merge. Send them an RFP today and deliver your brand messaging to a broad audience. Here is a by age breakdown of measured users who are representative of the US population and an even gender split.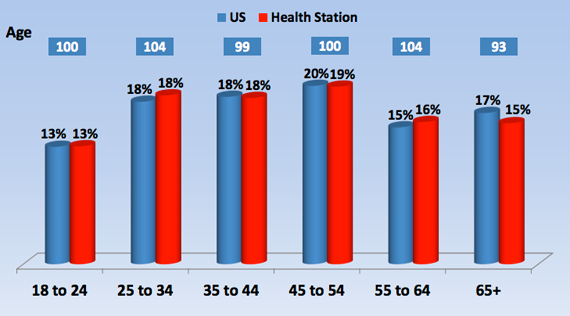 Request a Quote from Merge Healthcare
Like This Article? Share It!