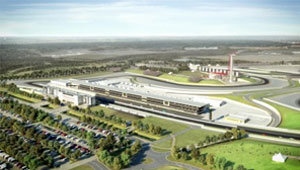 After a four-year absence Formula 1 racing is returning to the United States.  November 16-18 Austin, Texas and the Circuit of The Americas will host the United States Grand Prix.  The Circuit of The Americas is a state of the art facility complete with seating for 120,000 fans, 40,000 square foot Conference/Media Center and the finest private and public event amenities.  Here is a preview pic:
Target Audience
The audience, which visits Formula 1 is on average, 73% Male and 27% Female, come from a national and local reach for events and driving experiences. 58% are between 25 and 54 years old and the majority are from a professional background. The audience is brand loyal, lifestyle conscious and relatively affluent.
Advertising Packages
Option 1 » Just to the race
FT with your branding to be handed to the crowds entering or exiting the stadium
Estimated copies:
Practice 2,000 Copies
Qualifying 2,000 Copies
Race Day 4,000 Copies
Option 2 » Hotels
Send copies to VIP and Concierge areas of each hotel
100 copies per hotel x  3 days x 25 hotels
Option 3 » Hotels
Hotel copies to go door to door, quantities will be much higher unless we choose less hotels
Estimating 300 copies per hotel x 3 days x 10 hotels
Options within each package

Cover Wrap
(wraps around paper)
17.75'€ h x 12.75'€ w
Folds at 7'€ from top of front page
45.1 cm x  32.4 cm

Onsert
6.75'€ h x 12.75'€ W
A thin strip sticks to the left side
17.1 cm x 32.4 cm

Sticker
2'€ h x 3'€ w
5.1 cm x 7.6 cm
Request a Quote from Financial Times
Like This Article? Share It!