When we introduced DOmedia at the OAAA Star Showcase in the fall of 2008, we thought we had a brilliant idea. Thanks to industry feedback, our technology and business model have evolved from an expert tool to a tool for experts! Together we have grown over 300% and we are still the world's largest OOH media marketplace. Thank you for all the support and feedback that helped us reach this point. DOmedia remains committed to adding value and growing the OOH market by providing incremental business opportunities and working towards an industry-supported path to standardization.
700+ media sellers have posted their assets in the DOmedia marketplace. On the other side of the marketplace, 1,000+ media buyers have used the DOmedia platform to execute 20,000+ plans and searches in the past 12 months. OOH needs tools that integrate with industry relevant data sets. The most efficient way for those integrations to be used by buyers and sellers to create value is to have them hosted on a centralized data resource. A centralized resource will provide seamless end-to-end workflow that will help the industry leap forward and gain a greater percentage of the overall advertising spend. Our strategic partnerships with Telmar, NEC, and our participation in industry associations (OAAA, TAB, DPAA, IAB) reaffirm our belief in system integrations. Feedback from those two groups and DOmedia users informs our internal tech development processes and ensures we are building an industry-vetted solution.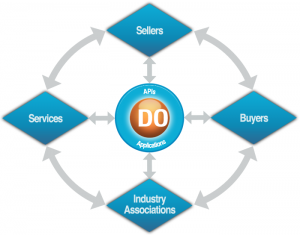 Your feedback has challenged us to address how our technology meets industry needs:
Improved search, discovery and planning – Our dynamic search tool is self-directed and can be used at any stage of the RFP process. Media sellers can be found by format, audience measurement type and demographics. Search results can be further filtered by geographic parameters and displayed with data visualization tools.
Standardization of the RFP process – We have taken the incremental steps towards standardizing buyer RFP templates and media proposals. Standardized templates allow OOH to be planned and bought on a larger scale similar to other media, which saves significant time for the buyer and seller by removing RFP redundancies.
Telmar Integration '€" For the first time, Telmar's TOPS plans with TAB OOH Ratings data will be able to be converted into an RFP with a single click. The most trusted OOH media measurement is now seamlessly incorporated into the most widely used RFP tool.
With your continued participation in our development efforts, we will increase demand by providing a more compelling value proposition of OOH media's capabilities. We will keep improving RFP workflow and simplifying the access to data that better informs buyers, planners, and ultimately the brand client. From the use of our technology we are producing meaningful reports that benefit all industry participants.
We welcome and encourage you to share your thoughts on furthering the evolution of DOmedia's vision for OOH. Let us know if there is anything else we can do to add value for you and your company. You are the industry experts and we are here to help you grow!
Like This Article? Share It!