Park Media, a leader in digital signage software, recently launched Sign Center 5, the newest version of their enterprise-grade software platform. With Sign Center 5, Park Media has taken years of experience in supporting the complex needs of some of the largest network operators in North America, and incorporated those features in to a platform that is easy to use, affordable, and requires fewer people to manage than most other solutions.
Along with the release of Sign Center 5, Park Media has also unveiled an Android-based media player, the PMA-100. The PMA-100, which includes Sign Center 5 software, retails at low price of $249 per unit. Running the Android 4.0 OS (Ice Cream Sandwich), the media player supports HTML5 content, multi-zone screen layouts, external content feeds, alpha compositing, RS232 control, and other media playback and control capabilities in 1080p HD resolution.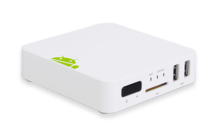 Serviceability for digital signage, menu board, kiosks, and other applications is easy and inexpensive due to the solid-state design and small form factor of the Android media player.
While the PMA-100 provides a great opportunity to reduce capital costs as your network grows to more locations, Park Media's traditional player software for PCs is also very competitively priced. And Sign Center 5 lets network operators manage both PC and Android based media players all from a single server and with the same back-end features available to media players running on either operating system. In most cases, your existing PC hardware can be migrated over to Park Media's software. This means that you can improve your day-to-day operations with Sign Center 5 using your existing hardware in the field, and take advantage of the low cost PMA-100 to continue to grow.
Cutting capital costs and overhead has never been easier for both new and existing DOOH networks. Sign Center 5 is deployable on your own servers in your own data center, or it may be hosted for you via Software as a Service (SaaS) in the Park Media Cloud. Park Media partners with a number of premier services providers that can help you make the transition and start realizing both capital and operational cost savings. No matter how you choose to set up the software, it is your network, your data, with you in complete control.
Visit www.parkmedia.tv to learn more and schedule a demo.
Like This Article? Share It!