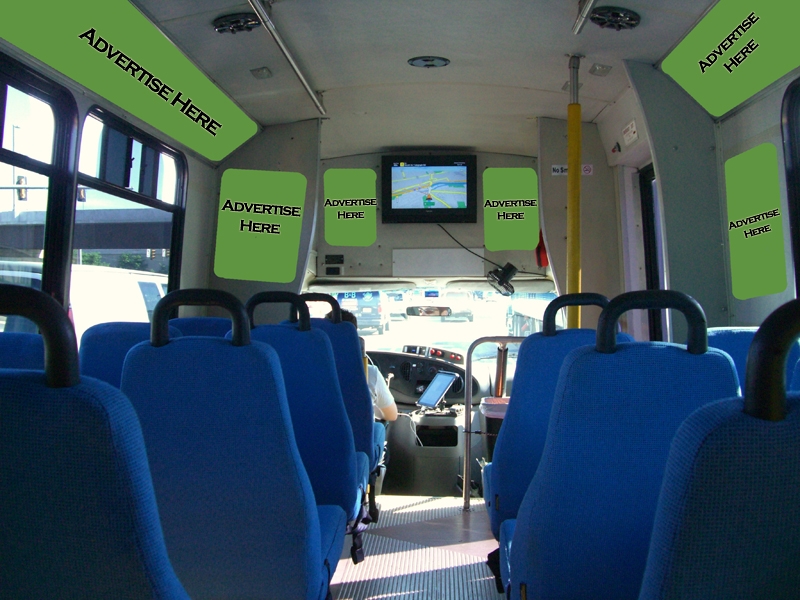 Welcome to the fourth post in our series on bus ads. In our first two posts we took a deeper look at side panel bus advertisements and front and back end bus advertisements. Our last post was on full wrap bus advertisements. In this post we'll be taking a look at interior bus advertisements.
Up until this point we've looked at different wraps and advertisements that can be placed on the outside of the bus. These kinds of bus ads are great at targeting commuters, motorists, and pedestrians. What if you want to specifically target the people actually riding the bus? To that do, you'd use interior bus ads.
Interior bus ads are very affordable and can be made to fit every marketing budget. Public transit numbers are growing so why not give all those commuters your ad to look at? While most people think of card displays on buses, there are actually a few different options, making it is possible to get creative with interior bus ads. Let's take a look at some common examples!
Top Interior Bus Displays

Top interior displays go inside the bus, between the window and the ceiling. Passengers will be have these in their view their entire trip.
Front Interior Bus Displays

Front interior displays go inside the bus, positioned at the front. They are generally larger than the top interior displays, offering more creative space and higher impact.
Ceiling Interior Bus Displays

Ceiling interior displays are attached to the inside ceiling of the bus. While they're not always in view for passengers, these ads definitely demand more attention once they are noticed.
Grab Handle Interior Bus Displays

Grab handle interior displays are ads placed on or around the grab handles in buses. These are great if you want to do something a little different with your interior bus ad.
Audio Interior Bus Advertising

Not all interior bus ads have to be visual. Have your own audio advertisement play over the bus speaker system.
Like This Article? Share It!