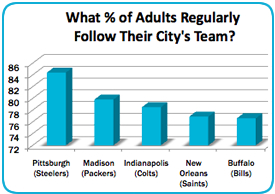 For advertisers looking to reach the football audience this season, here are some of the cities with the highest number of football fans who are loyal to their city's team. Overall, 61.2% of US adults regularly follow a professional football team, 56.5% of which are males and 43.5% of which are females. Professional football fans are also affluent'€"38% earn more than $75,000 in HHI, and 24% earn more than $150,000 in HHI.
You can reach this captive audience using a DOmedia's targeted search tools which give you the power to select top DMAs and filter results by specific categories and venues.
Begin your search for sports stadium media >>


Source: "The Media Audit Sports Report" – 2010
Like This Article? Share It!