Nothing else can put a smile on your face quite like a mob flash dance made of several hundred strangers when you're least expecting it.  On January 15th, London's Liverpool Street Station was transformed into a massive dance floor thanks to T-Mobile.
The tagline, '€œLife's for Sharing,'€ is exactly how you feel after watching the YouTube video that was shot with hidden cameras.  What begins with a handful of people quickly molds into an entire train station gettin' down (grandmas and mohawk rockers alike) to the upbeat music blaring overhead.  Intrigued onlookers'€"no doubt questioning their sanity'€"filmed the whole event via cell phones to later share with family and friends.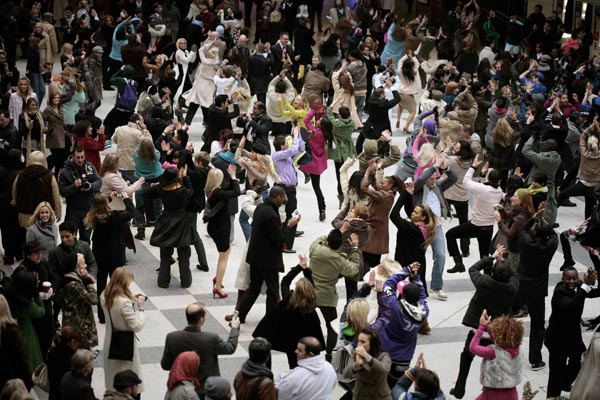 Kudos to T-Mobile, and agency Saatchi & Saatchi, for giving us something to laugh at and talk about . . . which was probably the point.  I also love that they thought outside the silos (is it online . . . guerrilla . . . out of home?) and instead focused on building a connection between the experience and the brand, using all the relevant tools at their disposal.
Although many people are criticizing T-Mobile and Saatchi & Saatchi for using regurgitated material, I say anything that brings huge numbers of people together in a way that makes us all feel good just by watching it is a success.  After all, the very message here is that T-Mobile makes it possible for you to share any meaningful moment with the people that matter most.